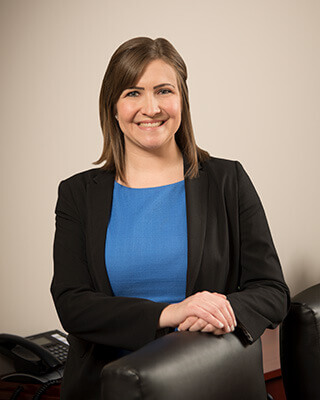 Stephanie Wiegand, Esq.
Stephanie Wiegand is of Counsel to the Firm.  Stephanie concentrates a majority of her practice on matters involving General Civil Litigation, Community Association Law, Landlord/Tenant Law, and Collections.  Ms. Wiegand started at the firm as an Associate in 2014 and regularly appears in court throughout New Jersey, New York, and Pennsylvania.  She regularly attends proceedings in New Jersey Law Division, Special Civil, Landlord/Tenant, and Municipal courts, New York Supreme Court, Civil Court, and housing courts, and Pennsylvania Court of Common Pleas and Magisterial District Courts.
Ms. Wiegand has represented the firm's clients in various complex litigation involving breach of contract, fraud, and breach of warranty of habitability.  More recently, Ms. Wiegand successfully defended a lawsuit for a client and obtained a $70,000 money judgment in the client's favor for the plaintiff's breach of contract and frivolous litigation.  She also successfully defended and resolved a lawsuit involving alleged habitability, damage, and personal injury claims.  She continues to vigorously defend lawsuits on behalf of her clients and prosecute claims for clients, while balancing and considering their financial and business needs.
Ms. Wiegand has also successfully handled to completion a number of nonpayment of rent, notices cases, and Marini hearings for issues involving habitability claims for her clients. She also provide thorough lease drafting and lease reviews.  In addition, Ms. Wiegand has represented the firm's Community Association clients in mediation and Alternative Dispute Resolutions.
She also has experience negotiating transition issues involving construction defects for the firm's Community Association clients.  Further, her day-to-day practice involves assisting clients with immediate needs, trouble-shooting for managers, resolving tenancy issues or Association membership concerns, and negotiating contracts, releases, and settlement agreements for her clients. 
Ms. Wiegand is a member of the Community Associations Institute New Jersey Chapter (CAI-NJ) and was a committee person for three years, including chairperson in 2017. She is also a Certified Mediator through CAI-NJ. Additionally, Ms. Wiegand has presented at numerous seminars, including the New Jersey Apartment Association (NJAA) Fair Housing & Beyond, the National Apartment Association (NAA) Certified Apartment Manager (CAM) Fair Housing & Legal Responsibility, and Landlord-Tenant Law: Lease Agreements, Defaults, and Collections. She has also presented several other seminar on various topics to clients, managers, and other including fair housing, landlord/tenant law, collections, and rent receivership.
She has been selected to the New Jersey Super Lawyers – Rising Stars for 2018, 2019, and 2020.  Ms. Wiegand received her Juris Doctor from New York Law School, where she graduated cum laude and served on the Law Review as a member and a Managing Editor.  Prior to law school, she received a BA degree from the University of Delaware, where she also graduated cum laude.