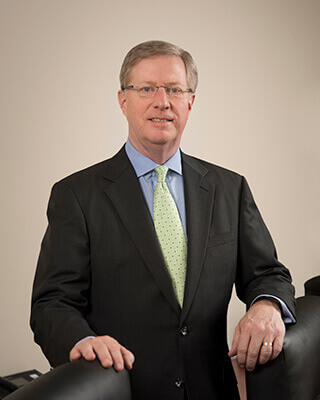 Robert C. Griffin is Of Counsel to the firm. His major areas of practice are Community Association Law and Litigation. He also handles Business Start-ups, Commercial Law, Fair Housing and Discrimination issues; Labor Law; Rights of the Disabled; Land Use; Real Estate Transactions; Wills and Trusts; and, Municipal Court.

Mr. Griffin represents community associations, providing guidance through the transition process from developer to homeowner control, and serves as general counsel for community associations. Mr. Griffin appears before Planning and Zoning Boards in support of community association applications, and in opposition to development applications contrary to client interests. He also appears in municipal court when community associations are cited for violations.

A litigator throughout his entire career, Mr. Griffin oversees the firm's community association construction defect litigation cases; and, large non-community association litigation matters.

Since 2002, Mr. Griffin has served on the Board of Trustees for Community Access Unlimited, a non-profit corporation which assists people with disabilities in living successfully in the community, and was the President of the Board from 2008 - 2010. He is a member of the faculty at the Union County Police Academy; and, he has lectured and written articles for the Community Associations Institute, nationally and for the New Jersey Chapter.

Mr. Griffin is admitted to practice in New Jersey, and before the U.S. District Court for the District of New Jersey, the Third Circuit Court of Appeals, New York and Pennsylvania.

Mr. Griffin is a graduate of Seton Hall University, School of Law (J.D. 1983) and Marist College (B.S. 1977).

Mr. Griffin is a member of the America Bar Association; the New Jersey Bar Association; the New York Bar Association; the Pennsylvania Bar Association and the Community Associations Institute - New Jersey Chapter.

Mr. Griffin is also a Mediator through the New Jersey Community Associations Institute (CAI).