Jennifer L. Alexander, Esq.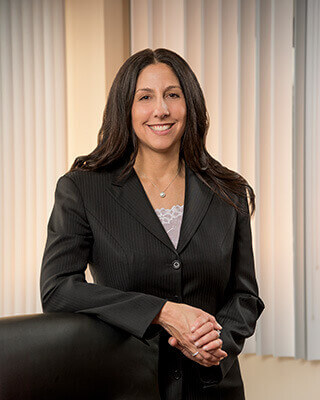 Jennifer L. Alexander is the Managing Shareholder at Griffin Alexander, PC whose practice concentrates on matters involving New Jersey, New York and Pennsylvania Landlord-Tenant Law, Community Association Law, and Collections Law. She also handles Commercial Real Estate Transactions, Land Use and Municipal Court matters. She begins most days appearing in Landlord-Tenant Court or appearing on behalf of community associations in litigation, providing legal advice and guidance through the day and ends most of her days representing communities in board meetings.
Under Ms. Alexander's leadership in the Landlord Tenant Department, the firm represents local, national corporate and individual landlords. Representation includes non-payment cases, "for-cause" cases (e.g. habitability claims, security deposits, lease violations), lease drafting and statutory compliance.  Ms. Alexander regularly provides lease reviews and lease drafting for her clients to ensure they are in compliance with new laws and fit the needs of her individual clients. She is also well versed in rent control laws, affordable housing requirements and what is necessary for capital surcharge applications.   
Ms. Alexander has successfully handled several housing discrimination suits on behalf of landlords filed by tenants and provides procedures and recommendations to help limit landlord exposure to Federal Fair Housing violations. She also appears in court related to contract disputes for both community associations and landlords and when her clients are cited for violations.
Similarly, Ms. Alexander represents community associations, providing guidance through the transition process from developer control to homeowner control and serves as general counsel for community association needs.
Ms. Alexander appears before Planning and Zoning Boards in support of community association applications, as well as in opposition to applications which are contrary to a client's interests. Recently, she successfully handled a planning board application to add more parking at one of her communities within a municipality known to oppose such requests. She handles community association loan applications when associations secure loans or lines of credit.
Ms. Alexander also assists communities in rule making and drafting amendments to promote community living. She has also assisted in contested association elections and helps to ensure that associations are in full compliance with the Radburn Act. Additionally, Ms. Alexander assists community associations in negotiating Municipal Services Agreements to ensure her clients receive the services they are entitled to or the reimbursement equivalent.
After filing an injunction, Ms. Alexander recently obtained a court order to stop the New Jersey Department of Transportation from blasting during a road construction project on Route 46 in Passaic County. The injunction successfully prevented likely damage to condominium association property that would have been incurred by the blasting – the homes referenced were built on a cliff with retaining walls constructed on fill.
Ms. Alexander negotiated an easement agreement with a municipality to ensure culvert repairs and restriction on easement rights to not impede on her client's property. Additionally, she assisted a homeowner in Morris County by negotiating with the municipality to adjust easements on their property. This ensured that a culvert was built to facilitate water run-off away from the property.
Ms. Alexander was also successful in having a tenant evicted for not paying rent and subsequently mediating a harassment charge initiated by the tenant against the landlord. She also oversees the Collections Department, which works on behalf of community association clients to collect payments of delinquent maintenance fees and charges.
Ms. Alexander regularly speaks on community association topics at Community Association Institute – New Jersey Chapter seminars, the annual NJ Cooperator Expo, the NJAA, the POA and for management companies. She also lectures and delivers seminars on Federal Fair Housing regulations and other issues of concern to landlords. She hosted an ICLE Webinar, entitled "Bankruptcy Basics for the Residential Real Estate Lawyer." Additionally, she is honored to regularly present at NJAA, CAM and CAI Seminars, including "Fair Housing and Beyond" and "The Board Leadership Development Workshop".  Ms. Alexander also was invited to be a guest speaker at Rutgers Real Estate Center.
Ms. Alexander assists clients in real estate matters. She specializes in commercial real estate transactions, such as the sale and development of real estate properties, refinancing, and purchases and sales of investment properties. She recently secured significant long-term commercial leases for a landlord with properties in Jersey City, Hoboken and Morristown. Additionally, she negotiated a municipal service agreement for a condominium client increasing their ability to have more snow clearing and lighting, while arranging for the town to take over trash removal.
Additionally, Ms. Alexander successfully handles over 100 evictions per month (Griffin Alexander, PC handles over approximately 300 evictions per month in total). She was recently successful in having residents not in compliance with 55 and older requirements vacate a unit in a condominium complex.
Ms. Alexander is admitted to practice in New Jersey, New York and Pennsylvania.  She is also admitted to practice in the U.S. District Court for the District of New Jersey and the Middle District of Pennsylvania. She received her law degree from The University of Toledo College of Law and her B.A. from Rutgers University, Douglas College.  
Ms. Alexander is a member of the America Bar Association; the New Jersey Bar Association; the New York Bar Association; the Pennsylvania Bar Association; the Community Associations Institute - New Jersey Chapter; the National Apartment Association; the New Jersey Apartment Association; and the NJ Cooperator.  She also currently holds a position on the Advisory Board for the Center for Real Estate at Rutgers University, where she mentors' students in the Mentor/Mentee program.  Ms. Alexander also holds a position on the NJAA Legislative Committee.
Ms. Alexander is a Mediator through the New Jersey Community Associations Institute (CAI).  She is a frequent contributor and speaker atAssociationHelp Now.  Ms. Alexander recently was the keynote speaker in a seminar on "NJ is Legalizing Cannabis" to advise members in the Multifamily Industry on the ins and outs of the pending marijuana legalization bill.  She has also been instrumental in helping clients navigate theseunchartered waters during the COVID-19 pandemic by among many things, assisting in establishing policies and procedures.  Ms. Alexander has been honorably appointed as a LAC delegate to the NJ Legislative Action Committee in which Ms. Alexander is pleased to offer her industry experience and broad knowledge.